Ongoing Project Goals:
** Update 7/31/17 – Village of Kutal, Mercy Children's Home, Shree Mahadevshwori school
2017/2018 needs
Change for Hope- a 501c3 organization working in Nepal since 2005. We are now fundraising for the following projects (also many more)
NO PERSONAL EXPENSES ARE TAKEN FROM YOUR DONATIONS..
Please browse the web page for more information.
Village of Kutal in Dhading –
$ 2000 purchase of 20 goats ( large high quality breeders) for widows and poorer families and or Water Buff at $450 each- this will include transportation- this is a very rural area that is 6 hrs by bus, one hr by jeep and then another 6 hrs walking in- last years project for this was a GREAT success for widows. We also purchased one water buffalo for a widow and she is now self sufficient- selling milk and Ghee ( their cooking oil) plus they are able to sell the babies
Mercy Childrens Home in Pokhara, Nepal.
The government is putting continual pressure on Childrens Homes THAT ARE NOT STATE RUN.
We have kept ahead of the government, much to their amazement and your generous contributions.
$10,000 Library and Medical hall – Upper level has been approved by a structural engineer
This would be a room that is 16×15 feet
Currently they are using the study room
$600 Book shelves – three large shelving Units
$600 two computers for childrens education
$700 three Library tables ( much like the ones you did in the study hall a few years ago)
$200 bedding for sick students
$ 700 Hook up to City Water Supply ( water table is drying up)
$ 500 Chef training for Ashish who is in highschool to allow him to reach full potential
$4500 on graduating student for college education
$500 Chef/cook training for one graduating student
Shree Mahadevshwori school – Babare, Dolakha Nepal
This school is on my webpage under "PROJECTS". The school building was rebuilt with one level.
Everyone lost their homes in the area after the big earthquake of 2015. Children there are in poor financial condition.
$1000 Uniforms for all children including shirts, shoes, socks, pants OF THE ENTIRE SCHOOL
$ 1000 School supplies as NEEDED
---
Shree Mahadevshwori school – Babare, Dolakha Nepal
The original goal was to enhance the school but the school was demolished during the earthquakes in 2015. When this school is rebuilt by the government we will assume refurbishing and rebuilding areas the government does not care about with new desks and chairs, white boards and supplies, materials to build a library with ( there was none), more playground equipment ( we supplied the first) uniforms to the most impoverished children , new curriculum, learning posters, and globes, painting the inside with bright encouraging colors. The community desires cement steps leading up to the school to be built ( currently stones) and improve the outhouse facilities.
Update: The current budget listed is $15,000 and this would be needed to really build this school up into the best in the area and supply books for the library and furnishings. The current amount that we have collected is $5000 so we need $10,000 more. This will be an earthquake proof to the 8.5 earthquake mentioned above. The proposal is outstanding and I have this group ready to go on this this summer.
Click to open/download a detailed plan of the building project: School in Barbare.pdf
Estimated funding: $15,000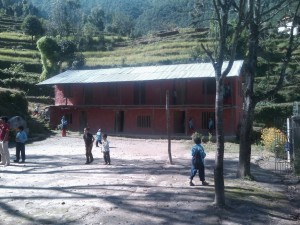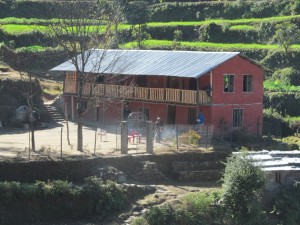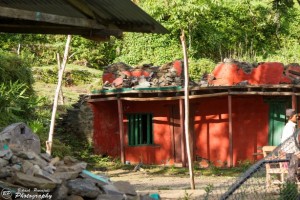 Pharmacy Start-up
Pramod Sagar Tamang lived in a home for disadvantaged children in 2008. After graduating from the home he became a cook and caretaker for the other children in the home. Change for Hope (CFH) met him in 2007. In 2011 CFH realized his medical potential while doing a medical clinic where he took notes with keen interest and offered him Pharmacy College. Sagar graduated September 2014 with the help of one donor.
The Pharmacy Start-up fundraising will include rental of property for one year, all medical supplies and medicines for a well-stocked pharmacy including a desk, chairs, counters and shelves and continued education. The pharmacy was started in July of 2015 but is in need of further funding.
Estimated goal: $5,500 – THIS IS FULLY FUNDED!!!

The Pharmacy Start-up fundraising goal of $8,000 will include rental of property for one year, all medical supplies and medicines for a well stocked pharmacy, desk, chairs, counters and shelves and continued education.
Girls Dormitory – Mercy Childrens Home – Pokhara, Nepal
CFH hopes to add an upper level girls dormitory to the Mercy Children's home where they have worked the last 4 years. This home is small and family orientated not a typical orphanage. This dormitory is needed to separate the girls from the boys as they are now in their teens. The addition on the upper level will cover the cost of building 4 new rooms with bedding, a bathroom and solar lighting in the study area.
Estimated funding: $9000
Farm Animals
Provide a means of income for poor FAMILIES and single women ( abandoned or lost husbands during quake) by purchasing and creating a breeding program with the purchase of goats and water buffalo for both milk and meat, chickens and a dairy cow ( cannot be eaten) but will supply milk.
Estmated need: $4000 to supply many people with their needs
All funding is scrupulously managed and accounted for to ensure money is spent on the people of Nepal to encourage them to be independent and self-sustaining in a dignified manner.
Chicken Ranch
Estmated need: $3000
Widows relief through Goats
4 widows- three goats each $750 ( one large breed, two small local goats – here are 13 more widows in this area – this is on a contract to breed for one year and to obtain a herd.
Estmated need: $750 for each widow – $3,000